Gordie Howe International Bridge
The main section of the Gordie Howe International Bridge will extend over the Detroit River nearly 2,800 feet with no piers beneath it, making it the longest such span in North America. Overall, the bridge will be the continent's 5th longest, with six lanes stretching 1.5 miles between Detroit and Windsor, Canada. Construction is scheduled to begin in 2018. A final cost estimate of the project will not be public until the final contract is signed in late 2018, but a report in the Windsor Star estimates the total cost could range from anywhere between $2.1 billion to $4.5 billion USD.  For more, click here.
The California High-Speed Rail (HSR) project carried a $40 billion price tag when first approved by voters in 2008. By March 2018, the estimated cost had risen to $77 billion. As outlined in the "Safe, Reliable High-Speed Passenger Train Bond Act for the 21st Century," the HSR project will build approximately 800 miles of track up and down the state, lacing together most of the state's large cities with up to 24 different stations. For more, click here.
Flint, Michigan was once the home of General Motors' largest auto plant. Its water quality has always been poor, but in 2015 it was revealed that the city's aging pipe system was corroding and sloughing dangerous levels of lead into the water. As of May 2017, lawsuits against the government for hundreds of millions of dollars were pending, and four government officials have been charged with felonies related to the crisis. For more, click here.
The California WaterFix would divert water destined for Southern California around the Sacramento–San Joaquin River Delta. Originally envisioned as twin $17 billion tunnels that would take 10 to 15 years to complete, funding concerns prompted Gov. Jerry Brown's administration to break the project into a first phase during which one tunnel would be built for roughly $11 billion and the second built later. For more, click here.
One year after the Oroville Dam's concrete spillway ruptured on Feb. 7, 2017, crews working day and night have made the most critical repairs to what has become an $870 million project. Kiewit Corp. of Omaha, Neb., fixed the dam's main spillway and an emergency spillway that also was damaged by unprecedented water releases forced by record rainfall in Northern California.
The work has continued in 2018, while the California Department of Water Resources (DWR) and Washington, D.C., discuss the extent to which the Federal Emergency Management Agency will pay for repairs. Meanwhile, Governor Jerry Brown signed legislation that codified the annual inspections DWR already conducts of the vast majority of the 1,249 dams the department oversees. The law requires "low hazard potential" dams be evaluated at least every other year. For more, click here.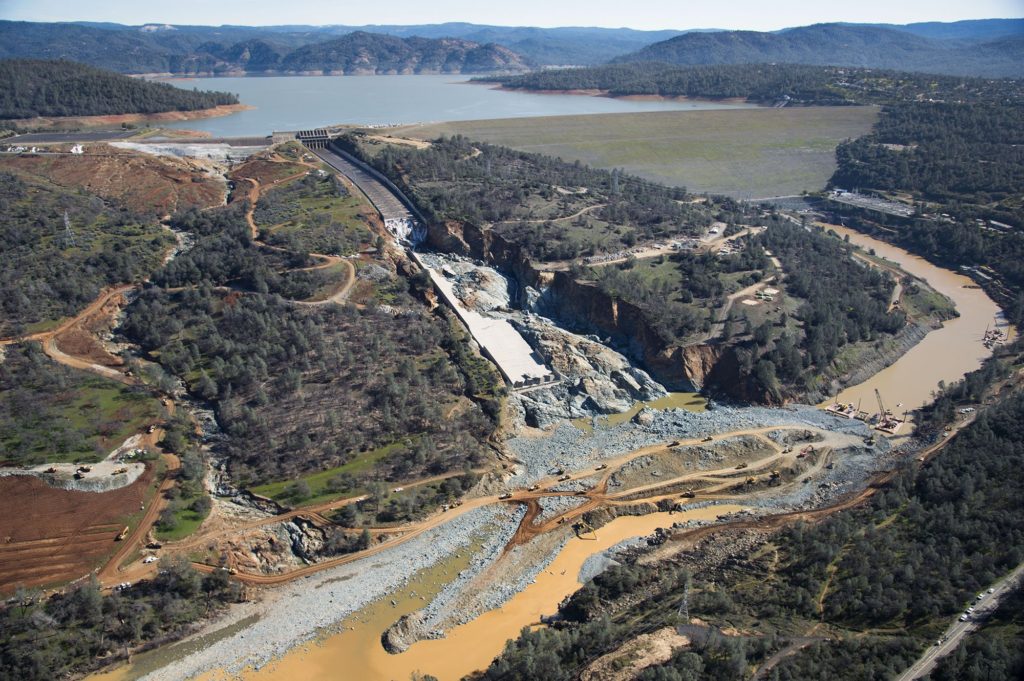 The Hong Kong–Zhuhai–Macau Bridge (also known as HKZM) is a design-build project that will span some 31 miles across the Pearl River Delta. When completed, its series of bridges, man-made islands, roads and tunnels will be the longest cross-sea combined highway in the world, connecting Hong Kong with Macau. The design-builder, China Communications Construction Company,  broke ground in 2009 with a promise to finish the project by 2016 at an estimated cost of $10.6 billion. Delays have ensued, however, including a shifting artificial island, a scandal over faked concrete tests, and environmental litigation. Nine workers have died on the job and up to 600 more have been injured – and reported costs have climbed to $11.4 billion. The media has reported the project could open as late as 2021. For more, click here.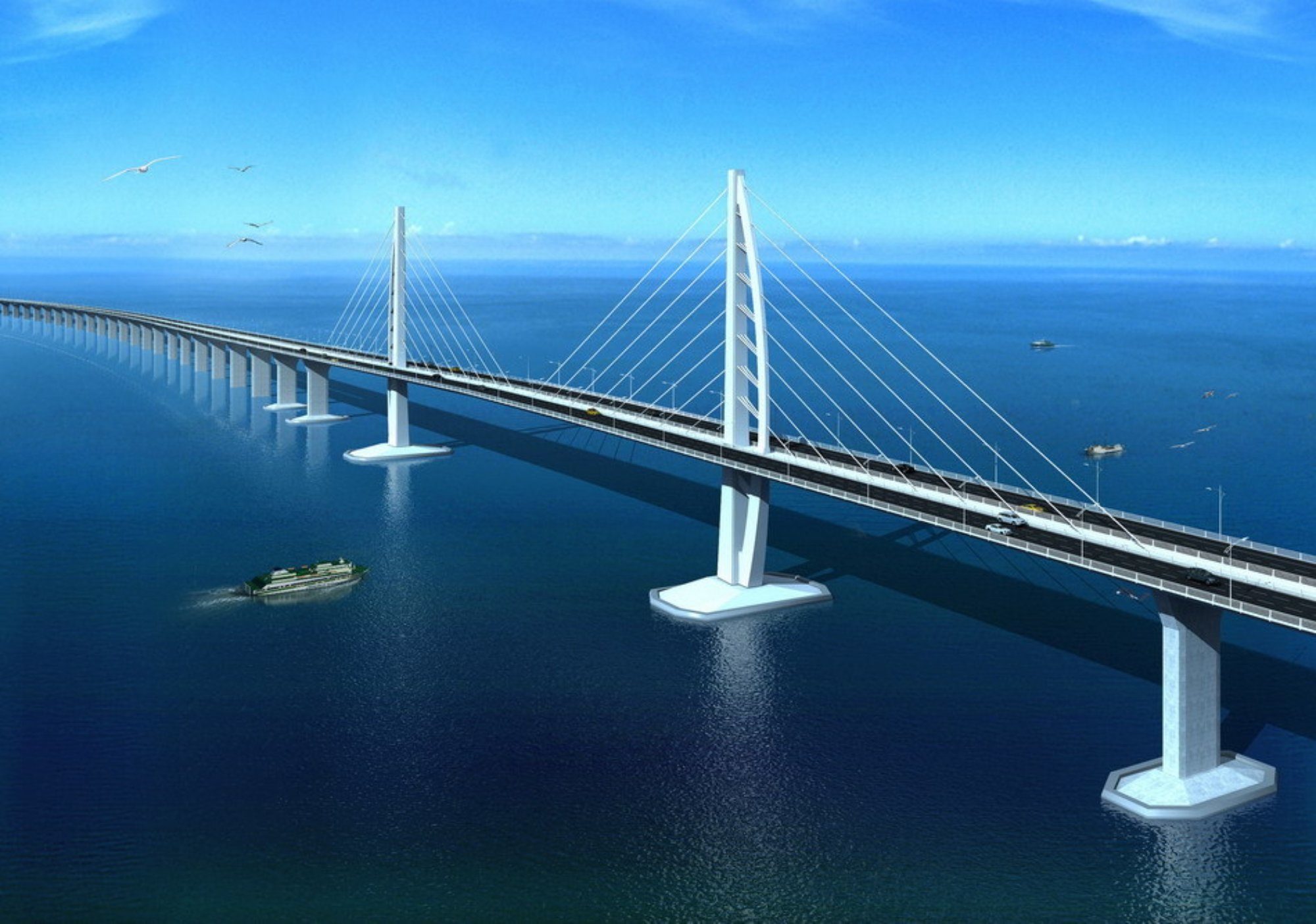 Indiana's Interstate 69 extension is a 142-mile stretch of that the Indiana Department of Transportation divided into six independent project sections, with original cost estimates of $2 billion for the entire stretch. INDOT spearheaded construction for sections one through four, all of which are currently complete and open to traffic.
The project's fifth section gained notoriety after the state entered a public-private partnership with a Spanish-based consortium. Plagued with an extensive list of delays and cost overruns, the troubled project has since become a prime example of yet another P3 failing to deliver on promises of a speedy completion and big savings for taxpayers. For more, click here.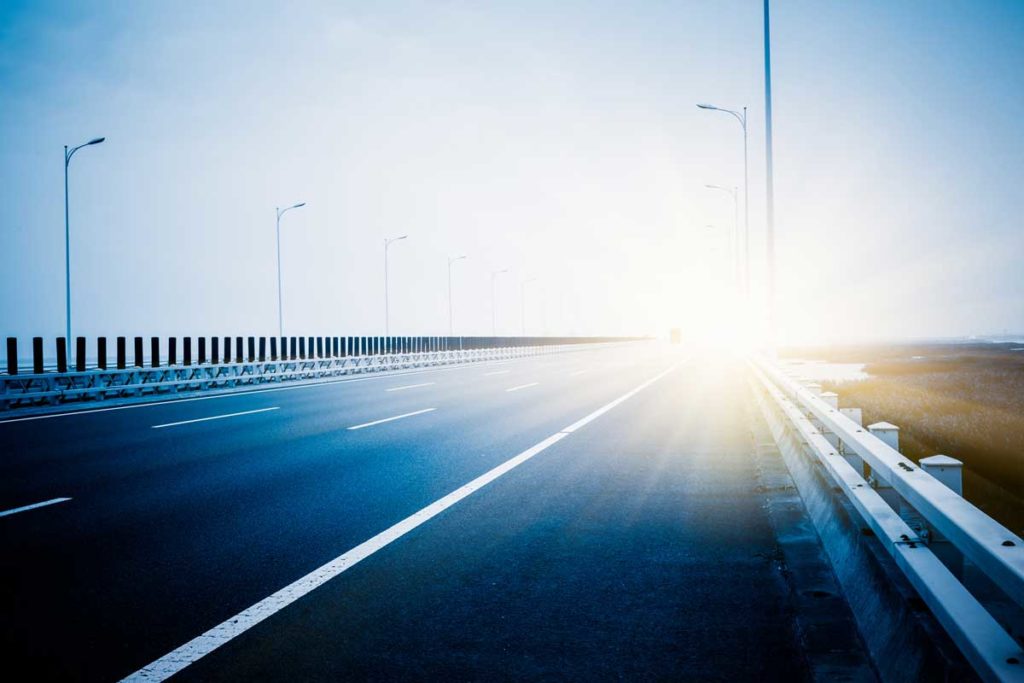 The $1.2 billion public-private partnership project will reconstruct a 10-mile stretch of Interstate 70, add one new Express Lane in each direction, remove an aging 53-year old viaduct, lower the interstate between Brighton and Colorado boulevards, and place a 4-acre park over a portion of the lowered interstate. It is expected to take four to five years to complete. For more, click here.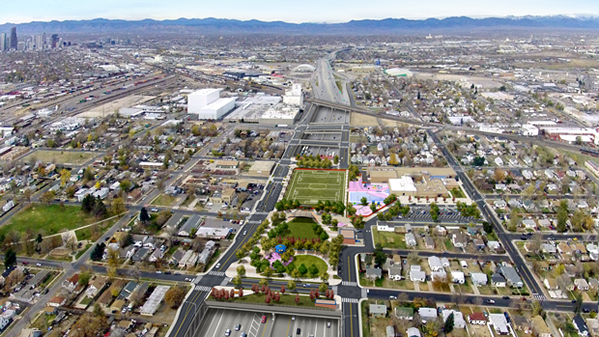 This $3.2 billion Seattle project is actually a collection of 32 individual projects that launched in 2010 to replace an outdated section of State Route 99. The most famous part is the 2-mile-long tunnel dug by the "Bertha" drill, which started burrowing into the Seattle soil in summer 2013. After a two-year delay to diagnose and repair technical troubles with the drill, Bertha finished tunneling on April 4, 2017. State and local government officials estimate the entire project will be completed in 2023. For more, click here.
The Thames Tideway Tunnel is a $5.8 billion, 15.5-mile tunnel that will descend 213 feet below ground — essentially under the Thames River – to collect diluted sewage and move London sewage that currently pollutes the river several times each year. For more, click here.
Frederick Douglass Memorial Bridge (Washington, D.C.)
This design-build project aims to replace the 68-year-old Frederick Douglass Memorial Bridge, which connects Washington, D.C., with areas to the southeast across the Anacostia River. At an estimated $441 million to design and build, the project is the largest of its kind in the District's history. The Federal Highway Administration will allocate $200 million in taxpayer funds to the new bridge. AECOM is the lead designer of the three-arch span. A joint venture between Archer Western Construction and Granite Construction will serve as the general contractor. Officials say the bridge will open in late 2021. The current crossing is a steel structure that underwent a $27 million rehab in 2007 to extend its use until a replacement bridge could be designed and built.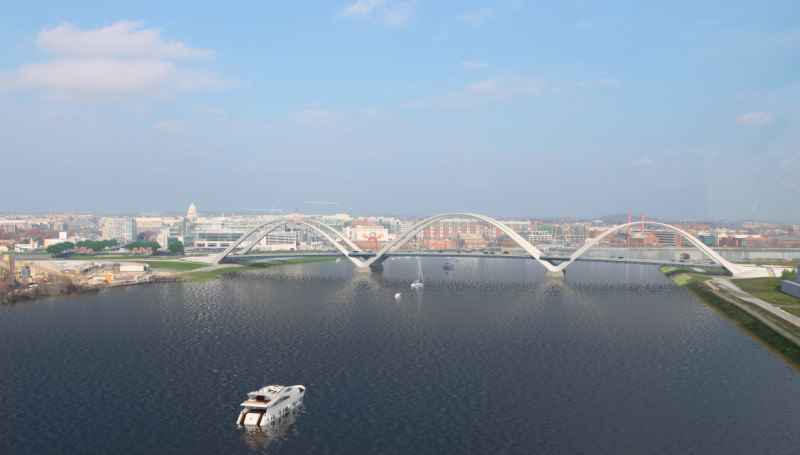 Tappan Zee Bridge Replacement (New York)
A twin cable-stayed bridge being built to replace the current Tappan Zee Bridge across the Hudson River that took decades to get approved by government officials. Construction began in 2013 as a design-build project. The replacement is expected to open in 2018 at a cost of at least $4 billion.